Wonder Keys - Die-Cut Novelty House Keys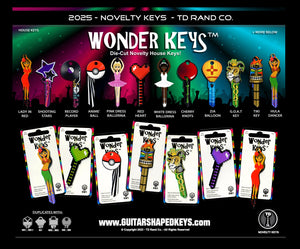 15 CRAZY NEW WONDER KEYS ADDED IN 2023!
We have designed even more super unique custom shaped house keys. Wonder Keys new exciting designs include Ballerina Shaped Keys, Shooting Stars Shaped Keys, Digital Heart Keys, Colorado Keys, Record Player Shaped Keys, Hula Dancer Keys, Cherry Keys, Tiki Keys, Shield Shaped Keys, Anime Ball Keys, Goat(G.O.A.T) Shaped Keys and even more coming soon. Wonder Keys are sure to add color, fun and style to your key ring! Tip: Having a backup set of keys can possibly save you a considerable amount of time and headache down the road!
#MOREWONDERKEYS coming soon! #VERYINTERSETING
LOW Domestic Shipping Cost - Any Quantity - $3.85 per order.
International Shipping  -  We Ship World Wide - $8.85 per order.
Thank you for visiting from all of us at Rockin' Keys!
(Our keys are also available on AMAZON)
Wonder Keys - Die-Cut Novelty House Keys