Rockin' Keys - Guitar Shaped Keys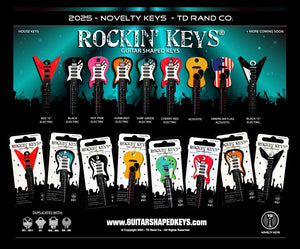 Home of Rockin' Keys, Guitar Shaped House Keys! Acoustic Guitar Shaped Keys, V Shaped Guitar Keys and Electric Guitar Shaped Keys are easily identifiable, high-quality replacement keys that totally ROCK! Rockin' Keys have many exciting guitar shaped key designs modeled after some of the best and most rockin' guitars! Be sure to check back; we are always adding more key shapes.
LOW Domestic Shipping Cost - Any Quantity - $3.85 per order.
International Shipping  -  We Ship World Wide - $8.85 per order.
Thank you for visiting from all of us here at Rockin' Keys!
(Our keys are also available on AMAZON)
Rockin' Keys - Guitar Shaped Keys