TD RAND CO. Novelty Keys - All Products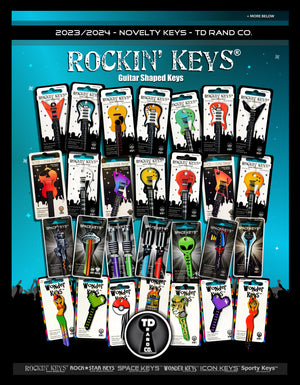 All products by TD RAND CO. LLC. 
Rockin' Keys, Space keys, Wonder Keys, Sporty Keys, RE/MAX Keys, Icon Keys, Rock Star Keys.
Home of Rockin' Keys the Guitar Shaped House Keys! Acoustic Guitar Shaped Keys and Electric Guitar Shaped Keys that are easily identifiable, high quality replacement keys that ROCK! Rockin' Keys have many exciting guitar shaped key designs modeled after some of the best and most rockin' guitars! Be sure to check back, we are always adding more key shapes.
LOW Domestic Shipping Cost - Any Quantity - $3.85 per order.
International Shipping  -  We Ship World Wide - $8.85 per order.
Thank you for visiting from all of us here at Rockin' Keys!
(Our keys are also available on AMAZON)
TD RAND CO. Novelty Keys - All Products