Sporty Keys Die-Cut Key Blanks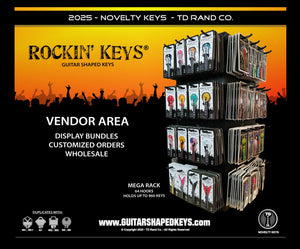 Sports-shaped keys - stylish designs with actual texture for grip and appearance. No matter what kind of sport you are passionate about, our selection of sports key blanks has got you covered! There is more than one way to keep your head in the game! Football Keys, Baseball Keys, Golf Keys, Soccer Keys, Basketball Keys. If you have any questions regarding our selection of sports key blanks and other products, please get in contact with us at 720-352-0510. We look forward to helping you to the best of our ability!
LOW Domestic Shipping Cost - Any Quantity - $3.85 per order.
International Shipping  -  We Ship World Wide - $8.85 per order.
Thank you for visiting from all of us at Rockin' Keys!
(Our keys are also available on AMAZON)
Sporty Keys Die-Cut Key Blanks