RE/MAX Balloon Logo Keys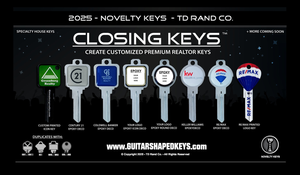 RE/MAX Hot Air Balloon Shaped Closing Keys make excellent gifts at closing! These are some of the best-looking keys that we produce; bright colors and shiny finishes with the option of custom printing make these an excellent branding opportunity for your business! These Re/Max balloon logo keys are great for realtors during open houses or closing situations. We give volume-based discounts for RE/MAX customers, order more, save more! If you have any questions regarding our Re/Max balloon logo keys, please get in contact with us at 720-352-0510. We look forward to serving you in any way we can!
 RE/MAX Keys are compatible with Kwikset KW1/KW11, Schlage SC1 or Weiser WR5/WR3 locks. (Weiser mainly used in Canada)
LOW Domestic Shipping Cost - $3.50 - $12.50 per order.
International Shipping Available. 
Thank you for visiting from all of us at Rockin' Keys!
(Our keys are also available on AMAZON)
RE/MAX Balloon Logo Keys