Icon Die-Cut Home Keys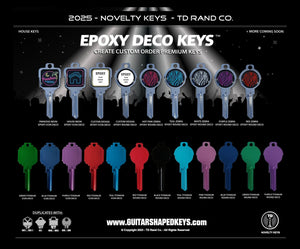 ICON House keys have oversized key heads. Available in KW1/KW10, SC1, or WR5/WR3. Bright Colors, 1 1/8" Bow size, great for easy identification! These house icon custom keys are one-of-a-kind key blanks that will help you identify your set of keys. Available in multiple colors, these keys will be sure to make your set of keys stand out. If you have any questions regarding our house icon custom keys, please get in contact with us at 720-352-0510. We look forward to helping you in any way we can!
LOW Domestic Shipping Cost - Any Quantity - $3.85 per order.
International Shipping  -  We Ship World Wide - $8.85 per order. 
Thank you for visiting from all of us at Rockin' Keys!
(Our keys are also available on AMAZON)
Icon Die-Cut Home Keys